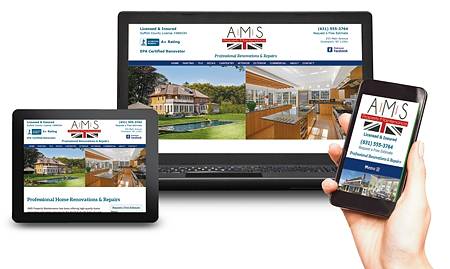 We offer complete business web design packages that include everything you need to have an effective online presence. Our website design packages can be customized to suit your specific needs.
All websites are custom-designed, and built to order, using the latest technology and best practices. We take the time to learn about your business, your customers, and we listen to your suggestions.
All our websites feature a mobile-friendly design which means your website will be easy to use and look great on any device – smartphone, tablet or desktop.
Web Design Packages
Basic Package
Up to 5 pages of content
Customized website design
Mobile-friendly design
Custom graphics and photo enhancement
Up to 2 Email accounts set up
6 months of hosting and support
Deluxe Package
Up to 12 pages of content
Visual branding research and design plan
Customized website design and page design
Contact form page
Mobile-friendly design
SEO optimization with keyword research
Custom graphics and photo enhancement
Business logo
Up to 5 Email accounts set up
1 year of hosting and support
We Create Effective Websites
An effective website is one that grows your business. It gets you more leads, and attracts new business.
Two key ingredients to an effective website are providing a great user experience so visitors stay and explore your website, and making sure your website can be easily found online when customers search for what you sell.
Engaging User Experience
We work to create the most effective organization for your website. So things are easy to find and make sense to visitors.
Creating custom graphics and images that help clearly communicate your marketing message.
Taking the time when we design your website to carefully choose the colors, typography, and graphic elements we use, to create a website design that will appeal to your customers.
Easy to Find Online
Doing keyword research to find best keywords for your business.
Performing search engine optimization (SEO) on your website. Optimizing the code with your best keywords to help your site rank better in online searches.
Revising and editing your text content to make it more search engine friendly, and make sure it included important keywords.
How We Work
We learn about your business and research your customers, industry and competitors.
We talk with you to get your feedback about the content, features and design you want to have for your website.
As we work on your project we keep you updated with email updates, sample images, and online previews of your website as it is being built. We are always interested in any ideas or suggestions you provide.
We take care of all the technical set up and file transfers needed to get your website online, and we fully test your website to make sure it works the way it should.
Choose a Website Platform that is Best for You
The websites we design are built using the WordPress platform, or they are built using pure HTML5 coding. You can decide which technology is the best fit for your business and budget.
WordPress
One of the most popular website platforms, used for over 60 million websites.
Has built in capabilities to store, manage, and organize your content.
Administration area lets anyone easily add or update website content.
Built-in blogging feature allows you to post articles and stories to your website.
New feature can be added to the website using plugins.
For WordPress based websites we provide training in how to administer your website, including adding and updating new content.
HTML5
Website is built from scratch using HTML5 technology.
The most flexibility in terms of design and features.
Fastest type of website in terms of page loading time.
Updates to website content must be done by a web designer. There is no administration area.
More labor required to set up website.